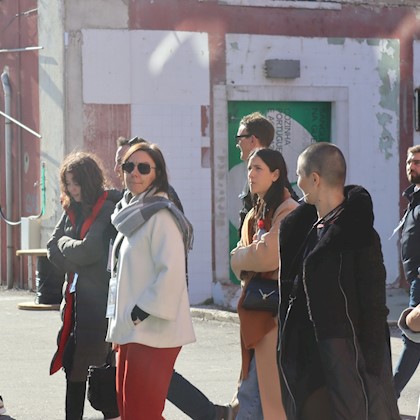 ATTENDING COMPANIES 2023 INCLUDED:
PriceLabs, NREP, Roundhill Capital, Studio Moren, PKF Hospitality Group, STR, Flying Butler Apartments, Bjorvika Apartments, Corporate Housing Factory, Stay Altido, NUMA, Abode Worldwide, Your Apartment, Rent4Rest, AHV Associates, Charles Hope Apartments, Edyn Group, Feel Porto, Vita Group, YAYS, AltoVita and more
About RECHARGE
They say you are who you surround yourself with.
Curated with an intense focus on community, collaboration and debate, RECHARGE welcomes urban innovators at the cutting edge of contemporary hospitality, real estate and living.

RECHARGE is for forward thinking hospitality and real estate leaders with purpose. A unique event that encourages a new way of thinking: if you're happy to challenge the status quo positively and are prepared to look at doing business' differently - it's for you!
RECHARGE promises an intense focus on collaboration and debate, bursting with innovation and 'personality.'

We provide the right network, format and space to elevate your ideas.
We connect the right people to build relationships that truly matter
We empower everybody to make an impact and create the world of tomorrow.
That's right. Where collaboration inspires innovation
An 'inclusive collective', with only 120 places available.

Forget walking an exhibit hall or sitting through hours of boardroom presentations

Most sessions will be 'short and punchy,' curated in debate, workshop and problem solving formats to help stimulate collective conversation, collaboration, innovation and value creation to help drive your business and the sector forward.
Intimate and personable, Peer-led learning, Unforgettable networking, Collaborotive Approach
Why Belfast?
Belfast is going to be the perfect spot for Recharge 2024. The capital city of Northern Ireland abounds with great food, top-tier attractions and welcoming locals with cheeky charm and fierce wit. Not to mention the ubiquitous craic, which the city runs on as an abundant natural resource.
Also, Irish hospitality is famous around the world. Belfast's inhabitants are friendly, informative, and, most importantly, great craic. No matter when you go or where you go, you're likely to make a few friends whether you mean to or not.
Besides the great people, food and amazing culture, Belfast also offers great opportunities for hospitality and real estate! 
Can't get enough of RECHARGE? Us neither! Watch highlights from LISBON 2023 👀📺 here for a little re-cap of and all the fun, learning and business which was done!