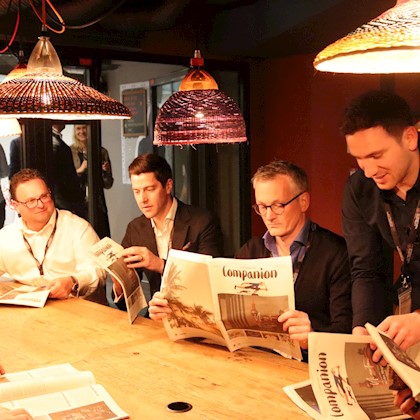 ATTENDING COMPANIES FROM 2022 INCLUDED:
Staycity Aparthotels, Vertiq Capital Advisors, Savills, Heden, Stasher, Homard Hotel Development, Arcadis, Kaldewei, GK Consulting LLP, C1 Capital, VGW Group, Beyond Aparthotels, PKL Invests, HOCOSO, The Hamlet, PriceLabs, Cheval Residences, Integrated Media Solutions, We(I) Think, Greystar, Saxbury, NREP, Apaleo, Sonder, Keytask, SV Group, Staycity Aparthotels, The Embassies of Good Living, HORECA Investment Partners, Lavanda, Dexter Moren Associates, Brookfield Assets Management, PKF Hospitality Group, STR, Avvio, Oakwood, Flying Butler Apartments, Brandfull, Opalia, Yays, Zetland Capital Partners, Corporate Housing Factory, Serviced Apartments NI, ECLA, 25 Hours, MRP Advisor, PGIM Real Estate, Commscope, Bartlett Real Estate Institute, LaSalle Investment Management, SITU, Euro Disney, Fundotel, HG Design, Your Apartments and more
About RECHARGE
They say you are who you surround yourself with.
Curated with an intense focus on community, collaboration and debate, RECHARGE welcomes urban innovators at the cutting edge of contemporary hospitality, real estate and living.

RECHARGE is for forward thinking hospitality and real estate leaders with purpose. A unique event that encourages a new way of thinking: if you're happy to challenge the status quo positively and are prepared to look at doing business' differently - it's for you!
RECHARGE promises an intense focus on collaboration and debate, bursting with innovation and 'personality.'

We provide the right network, format and space to elevate your ideas.
We connect the right people to build relationships that truly matter
We empower everybody to make an impact and create the world of tomorrow.
That's right. Where collaboration inspires innovation
An 'inclusive collective', with only 120 places available.

100% of 2022 attendees said they would attend the next, and lots of networking and business was done.
Forget walking an exhibit hall or sitting through hours of boardroom presentations

Most sessions will be 'short and punchy,' curated in debate, workshop and problem solving formats to help stimulate collective conversation, collaboration, innovation and value creation to help drive your business and the sector forward.Presentations will be in PechaKucha format - 20 seconds per slide and a maximum of 20 slides. 
Intimate and personable, Peer-led learning, Unforgettable networking, Collaborotive Approach
Why Lisbon?

Lisbon, Portugal's capital, is a major European city and a global centre for nightlife, beaches, historic city districts, and gastronomy. It is recognised as an alpha level global city for its importance in finance, commerce, international trade, and education. Roman-era architecture and Gothic monasteries surround the city, as it is the second oldest city in Europe. The city offers spectacular hilltop vistas in Alfama or at St. George's Castle, beautiful year-round weather and amazing beaches.
We believe that there is no better place to host RECHARGE 2023 because among its attributes as a global city, full of history and culture, Lisbon is one of the leading cities for startups and young professionals alike. It is now possible to incorporate a company online in just 45 minutes with zero fees for commercial licensing. Lisbon has reinvented itself in the last decade as a hub for innovation, becoming one of the top cities for "digital nomads".  Portugal's startup ecosystem is growing twice as fast as the European average, according to Startup Europe Partnership, and is home to over 30 incubators and accelerators and nearly 50 co-working spaces, according to Invest Lisboa. This is just to name a few of the glowing examples of hospitality, co-living, and co-working that is taking shape in Lisbon.
This innovation will allow the urban generations of the future to take hold in one of the oldest cities in the world. The hospitality landscape is changing fast and Lisbon is rising to meet it, with lowered bureaucracy and red tape for businesses and increased recruitment of young professionals. We believe that this city provides the perfect backdrop for making new connections and doing business. In a city full of culture and innovation, RECHARGERS will leave as true friends!
Can't get enough of RECHARGE? Us neither! Watch 👀📺 here a little re-cap of RECHARGE 2022 and all the fun, learning and business which was done!